Assgnment templates allow administrators to create a template for an assignment where settings and modules are mandatory for teachers. This is to e.g. ensure that all students receive exactly the same test and at the same time make it easier for teachers to set up an assignment.
An assignment template can be good to use in, for example, National tests, when you want special security settings.
Via the "Templates" tab, you as an administrator can make ready-made templates for an assignment in Trelson Assessment. You can then use the assignment templates you create when the students have to write more assignments that need the same settings.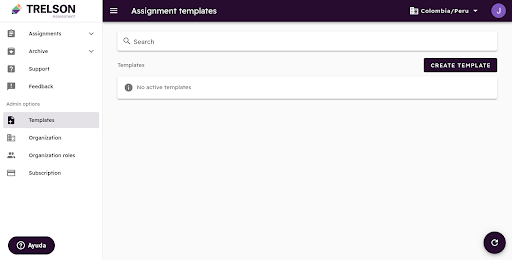 Basic settings
When you create your assignment templates, you can choose settings, such as whether the exams should be anonymized, whether the students should have PIN codes for the test, which exam clients the exam can be conducted on and which accessibility options are allowed. When you are done, press "Create".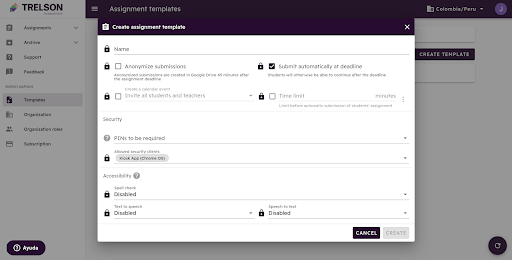 Additional settings for task templates
Storage space for submissions
If you do not want teachers to receive the submitted assignments on their Google Drive, you can choose to store the assignment in a shared device with a folder for each assignment. There you can then make rights settings for the teacher who has completed the task. Read more in this article. Divided units into sample templates
Included fields
Here you can choose which fields should be in the header of the student's submitted assignments.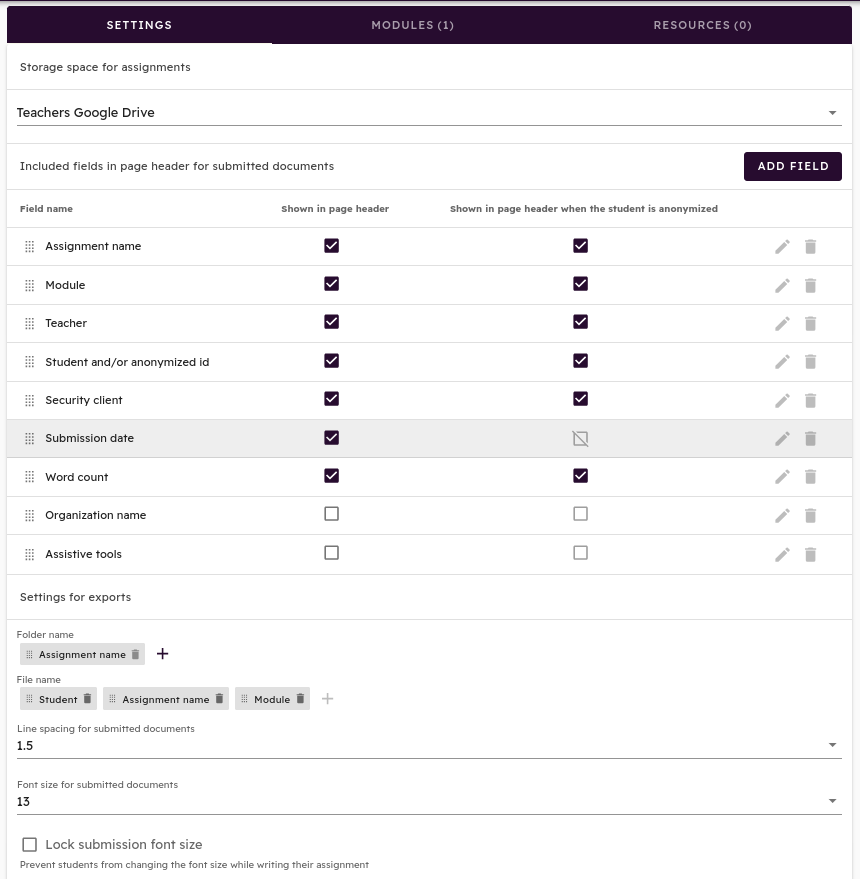 Custom fields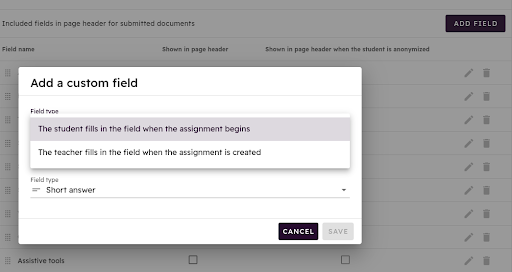 You can also add a custom field such as:
The teacher fills in when creating the assignment based on the template

The student fills in when it starts the assignment
You can use these fields as either metadata in the header or when you want to name the folders in which the assignments are created or the file names that are created when the student submits the assignment.
Settings for export and line spacing
Here you can set the name of the folder for the submitted files and the file name of the student's submitted assignment. Here you can use the custom fields you created earlier. Line spacing and font size only control the submitted files and do not affect the student's writing surface in the assignment.
If you do not want to allow the student to change font sizes during assignments, activate "Lock submission font size".

Add modules and resources
When you create a sample template, you can choose whether the teacher should be allowed to change/add modules or resources by clicking on the padlock.
To add modules see this article: Assignment modules in Trelson Assessment
To add resources, see this article: Resources in the Trelson Assessment
Activate assignment templates
In order for teachers to have access to use the assignment templates, they need to be activated by the administrator.
Use task templates as a teacher
See here how teachers do to use templates: Use assignment templates as a teacher